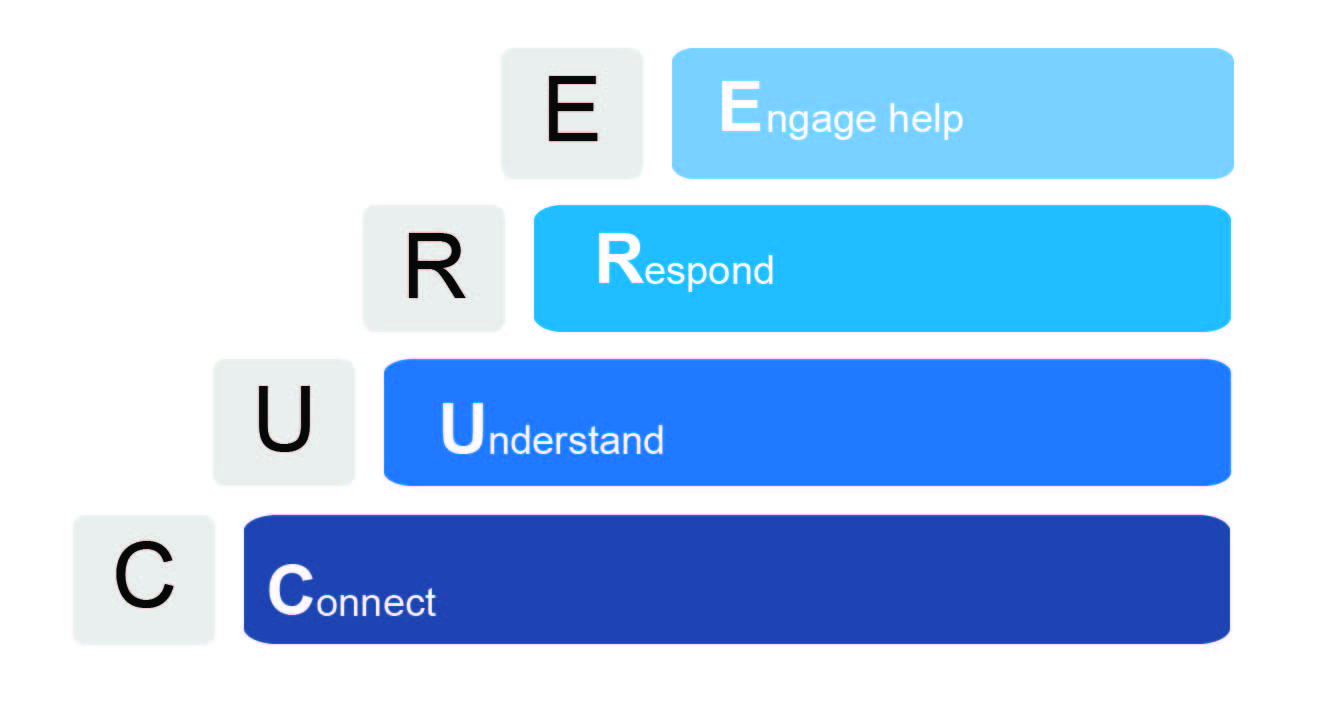 The Steps
The Steps are to do with the process of relationships. It helps us to understand how we can walk these steps in our journey with others, with God and also our own personal journey through life! The Steps are built on each other i.e. connection is always the first step. They give a sequence, starting with a focus on the importance of establishing a connection. For example, when I find myself responding too early, I can walk back down to the previous step of understanding and if necessary back to the step of connection. Over time, ideally our understanding grows, which allows for us to speak more into the other person's life in terms of response questions.
Print the Steps. 
The connection step is associated with the shape of the triangle and the love sector of the heart in the circle shape. The purpose of the connection step is to love more.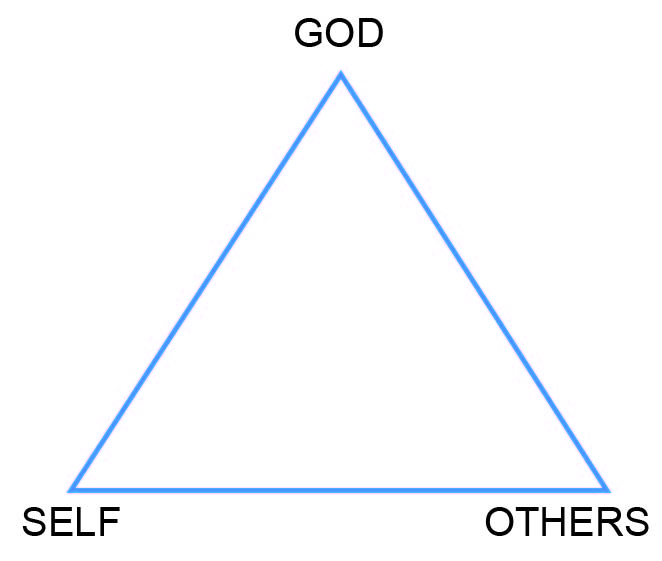 Connection is having the capacity to be truly with another person in an undefended relationship of attachment, attunement and being present. Connection involves love, care, cooperation and support.
Living Wholeness emphasises that connection, is defined and spelt as "s.a.f.e.t.y."! So we have more connection when:
Small numbers and similar people (similar age gender and culture) get together.
Attitudes of care, respect and confidentiality, consent and invitation (as outlined in the love, truth and control sectors of the heart circle) are practiced. The invitational posture is when one walks as it were one step beside and one step behind another, pointing to various options ahead but not going/pushing ahead.
Facing and fun are the 2 main ways of coping/dealing with issues (has located in the coping/exit sector of the heart circle). This is in contrast to faking, flighting/avoiding, (Christians are really good at these first 2!) fighting, freaking out, or just flopping down.
Empathy… or getting inside someone else's shoes is practiced       and is located in the centred sector in the heart circle).
Time together is spent.
"You" questions are asked… Like, "how are you?" And, "what is that like for you?" (Questions from the heart right through to the physical circle)

No relationship can really grow without reciprocal two-way connecting in safety, whether it be with others, ourselves and God. Connection replaces aloneness and shame. It is the step of love and attachment. (For counsellors, it is also the place where attachment theory is based.) 
For More on the Connection Step – view our Video Blog Series Here.
The purpose of the understanding step is to know deeper. The main shape linked with this step is the circles and is based on the foundation of the connection step. The circles can become a bit like a depth gauge of understanding. Thus a small group which focuses on external things is unlikely to have much sense of understanding. The depth gauge is critical to refer to, when someone talks about personal heart issues. These matters demand greater respect and confidentiality.
The Bible is so much about the understanding step, particularly about our being on the understanding step with God, knowing Him!
It is on this step that we can understand and be known. It is where the truth sector of the heart circle is. Here we can stand and know ourselves, others, and walk our journey of increasingly knowing God. It is on this step that confusion can clear, that lostness can turn into purpose. Here we can make sense of where we have come from, where we are at now and where we are heading. Being on the understanding step brings respect and over time, and wisdom. Identity and roles can grow here. In the context of the reality of being on the understanding step, truth flourishes, faith grows and standards can be set. It is here that a sense of belonging develops.
For More on the Connection Step – view our Video Blog Series Here.
The response step is connected with the shapes of the square and the cross. It is a response of care and counsel and/or mission. It is based on the undergirding of the understanding and the connection steps. The purpose of the response step is to grow stronger in a God centred flourishing way so that we can move on to serve.
The definition of response. This is a step of real change, where we can move towards God centred flourishing. Here we can grow personally, in our relationships and also with God. So often we try and fix things (especially others), without the strong undergirding steps of connection and understanding. We try, and respond, before we understand or even connect. When the response step works, there is greater capacity for control, discipline and responsibility. There can be a move from codependency or dependency to interdependency. Here hope can flourish, and confidence and courage can grow. It is on the response step that freedom, and choice (including consent) happen. It is here that constructive conversations occur, where synergy happens, and where people can move on to becoming true leaders, promoting change through service.
The Bible is not just about connection and understanding, but about God centred change in action. This is throughout the old Testament narrative and through the prophets. Inner changes need to be expressed on the outside. Jesus was Gods response to man's sin. The letters to the churches in Revelations are either about change, or holding on to a God centred life.
For More on the Connection Step – view our Video Blog Series Here.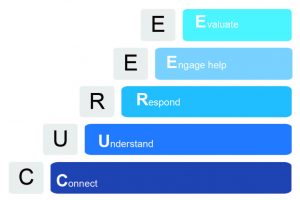 Yes. There is a fifth step.
The purpose of the engaging help step is just that to be in the stable supporting body of Christ (ideally including family and friends, small group, local church, ministry and professionals)!
The engaging help step is connected with the shape of the pyramid.  The receiving support and serving are in the form of responses of care and counsel and/or mission, which itself is based on the undergirding of the understanding step and the connection steps.
As we receive support from a range of sources, we can be empowered to servant lead others to become followers of Jesus – to become disciples of Him. It is from here that we can obey the Great Commission (Matthew 28:18 – 20) to "go and make disciples of all nations". The main shape linked with this step is the pyramid of support.
The shape of the pyramid illustrates the sources of help – which in essence are from God and the whole church (including God centred family and friends, the local church [including twos and threes, small groups and the local church meetings/activities], people helpers and professionals)
A question…How often do you evaluate where you are going?
Evaluation is continually used as we walk all of the other steps. It helps us to adjust back to goals and direction, to fly to greater heights, so that we can servant lead even more. How often do you take the opportunity to check out how you are going in terms of your walk/steps with God, others and yourself?
An aeroplane without constant evaluation in terms of its direction would end up in a very different place from where it is meant to be going! In the Bible so much is about evaluation about being real in our own lives and on our relationship with him and each other. No wonder the psalmist writes, "search me oh God and know my heart, test me and know my anxious thoughts and see if there be any offensive way in me, and leave me in the way everlasting." (Psalm 139:23, 24: NLT, NIV).
For More on the Connection Step – view our Video Blog Series Here.