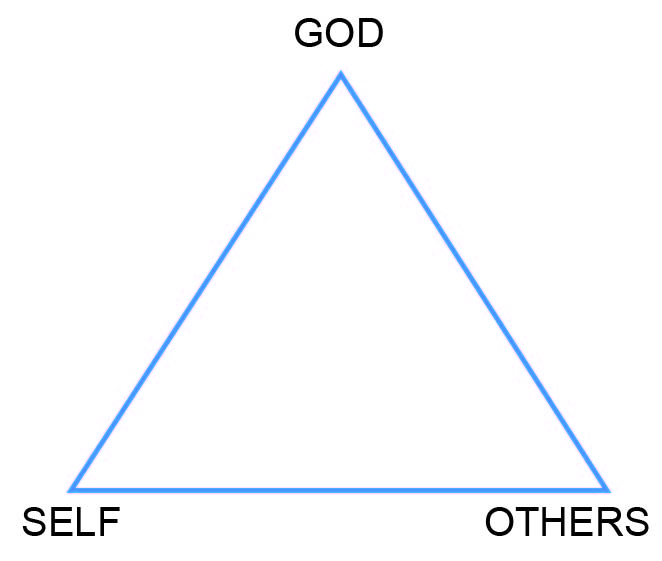 The Triangle
The triangle is primarily linked with the first step; connection. The Triangle is a big picture perspective of the connections that exist between ourselves, God and others. God made us to be like Him – the relational being, who himself lives in the triangle of the Trinity, the Father the Son and the Holy Spirit. The triangle aids us in knowing who our main connections are.
Print the Triangle. 
The triangle sits predominately on the connection step with God and with others. It represents "to love" and "to connect".It refers to the basis of, "trialogue" where 2 people are simultaneously connected with God. It can go from a 3 way connection of action, through to being mind to mind and then at a deeper level of being heart-to-heart. Trialogue can occur in a range of settings with anyone being with another in the presence of God. A challenge is for the church leader to be able to engage in trialogue, as opposed to the service being just dialogue between the leader and congregation, or the individual and God. The service that is driven from the front, without connection with the congregation, has less opportunity for more intimate trialogue, with God, the leaders and the congregation all connected. When this does happen, people know it, experience it, and are impacted.
In the Bible, we see triangles in terms of the Trinity in relationship, as well as in the great commandment (Mark 12:30 – 31), which illustrates the triangle of love – to love God, others and ourselves. It is when we are together with another in the presence of God that God is not only in us, but with us. As Jesus said, "whenever 2 or 3 are together in my name there I with them" (Matthew 18:20).
Personally, the triangle shows me the big picture of relationships. The triangle helps me to plan and navigate the map of life in connection with others. It helps me to see when I am travelling alone, or with God, with others, or all 3 at the same time. It reminds me to search for the people I can be with while at the same time being in connection with God. Here I can share and pray.
Specifically with family and friends, the triangle prompts me to live a proactive life or servant leadership i.e. God first, through me (and this means I am second….while not forgetting that I am crucified with Christ), and then on to others. This helps me to be less reactive and more proactive. It also helps me to be more willing to receive from others when they give to me. The main place where I have valued this 3 fold cord, is in the context of my marriage. The strength of a threefold cord is so much more than just when there are 2 cords (Ecclesiastes 4:12. NIV "though one may be overpowered, too can defend themselves. A cord of 3 strands is not quickly broken.".
The triangle illustrates the need
For connection with others, God and oneself,
For living proactively from God to others rather than in reaction to others or oneself.
To understand and make sense of our relationships and then to change these interactions, to become God centred and positive relationships,
To move from monologue (on our own) to dialogue (with others or with God) and then on to trialogue, loving and being with God and others as ourselves.
Note the incredibly strength of the triangle in engineering terms, and that three cords are not easily broken.
Application: Use the triangle in your own life, and in your small group at church, to Connect …. warmer! with God, yourself and others…(marriage and family, friends, small group, local church, mission/ministry, work). Ask yourself (an evaluation step exercise!) how well have you been connecting with God, others and yourself, and what changes you need to make. Look back, and evaluate about how you have been connecting in the triangle, so that you can leap forward with greater connection.