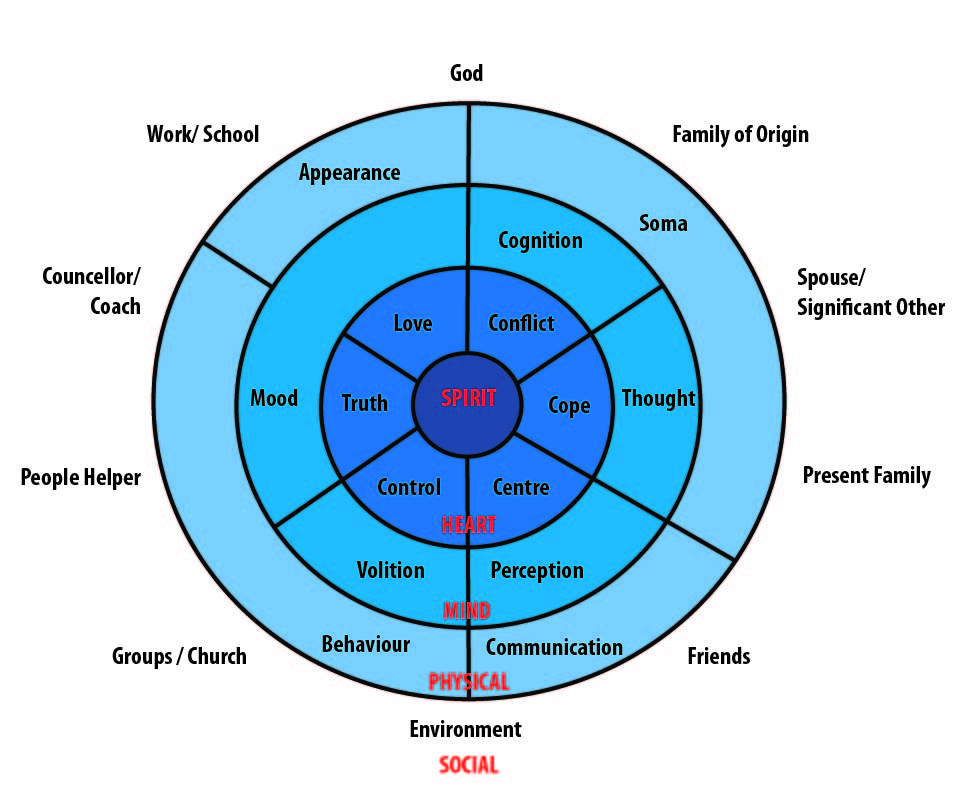 The Circles
Helps us to map how much we understand of each other. There are 5 concentric circles, which include from inside out, the spirit, heart, mind, body and social circles. In order to understand someone and their journey as a whole, it is important to know their parts. When you ask a friend, someone in the family or in your small group, "How are you?", "Where are you at?", "What is that like for you?" you will be able to locate which circles they are talking about and how deep they are letting you in to their life. The Circles assist you in the dept gauge of the relationship.
Print the Circles.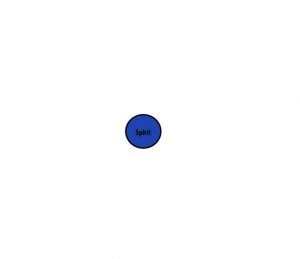 The Bible is relatively non-specific about the parts of the person. The great commandment refers to our heart, soul, mind and strength (Mark 12:30 – 31). Paul says to the church, "May God himself, the God of peace, sanctify you through and through. May your whole spirit, soul and body be blameless at the coming of our Lord Jesus Christ." (1 Thessalonians 5:23). The important thing is that we have some awareness of all the various parts of us.
The purpose of the spirit circle is for rebirth…to be born again into a new kingdom, and to become alive with the presence, purposes, placing, and provisions of God. The spirit is the place of relationship with God, and the source of the outflow of relationship through one's life to others. It is the place of indwelling of the Holy Spirit. The spirit is the centre of our being and the source of our lives.
The influence of the spirit on the rest of the person is significantly dependent on our knowing what is there, believing it and acting on it. When someone becomes a Christian, there is a fundamental change within this central circle. This is the change from being self-centred to God centred, dead in sin to dead to sin, born again and in a new kingdom. However, according to Paul in Romans 6, this is so often not known not or believed, in view of believing the loud voice of our experience (which may well be self-centred rather than God centred) and not acted on.
The Heart Circle is devided in the following sectors:
Love 
Conflict
Cope
Centre
Control
Truth
The purpose of the heart circle is to be refreshed towards a God centred flourishing, especially in terms of experiencing the fullness of
God's love in the love sector,
God's identity, as children of his and forgiveness, in our truth sector,
God's freedom and hope in our control sector.
The importance of the heart of a person includes our needs for
love, with a sense of safety, worth, attachment and trust and a God centred self-esteem instead of aloneness, disconnection. Indeed the great commandment (Mark 12:30, 31) and the new commandment (John 13:34 – to love others as Jesus loved us) are both about love. Jesus himself had a high sense of self esteem and identity and indeed of self control as illustrated in the Last Supper. In John 13 He washed the disciples feet – not out of a sense of low self-esteem, confused identity or despair/feeling trapped, but from his heart which was top right hand quadrant (God centred flourishing), going down to serve others rather than being top left-hand centred (self-centred success) letting or putting others down to suffer.
truth, purpose, respect, values and boundaries, being understood deeper with a God centred self identity. This is in contrast to the post-modern pluralistic present-day culture with an increasing sense of chaos, confusion and being lost
control, mastery and hope, to grow in a God centred and flourishing way
a capacity for a God centred servant leadership… Which frees us to go to live and give the great commandment (Matthew 28:30-31), to be and to make disciples of Jesus.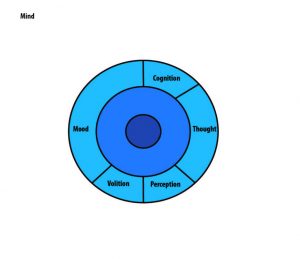 The purpose of the mind circle is for the renewal of our mind (Romans 12:1, 2) in a God centred way, and to have the mind of Christ (Philippians 2). True and emotional intelligence (IQ and EQ), involve all the sectors of the mind circle.
Our mind needs to be renewed, and our emotions need to be recognised but not to be placed in a central position from which we live. Our minds can become diseased, which can result in illness of mood (anger, depression and anxiety instead of love and joy and peace). God has given us common (secular) knowledge and the sciences (e.g. social, medical, psychological) which can still remain in the context of being biblically based and God centred.
The mind is also the place of volition (the petrol tank as it were, where our energy (fast or slow) and levels of enjoyment reside. It is the place of our perceptions (like seeing, tasting, touching, hearing) as well as being a big picture / detailed person,and the place of our thinking, beliefs and ideas, as well as being the place of our intellect, memory, concentration and orientation are.
Linking emotions with thought we have intuition; linking volition with thought we have interest; linking perception with thought we have imagination, thinking cognition with thought we have inventions. Knowledge development in a particular area is a result of growth in mind.
The purpose of the physical circle is the restoration of our bodies such that they can be offered as living sacrifices to God, rather than being slaves to sin, and thus experience and know his good, acceptable and perfect will (Romans 12:1, 2).
We have a body which needs to be looked after. It works best when the somatic part (our bodily systems) are healthy, and when we look after it especially in terms of sleep, exercise and diet. Our appearance is an aspect of the physical circle. It is because of our physical life that we can have behaviours (and thus actions and use of time). It is through our physical body that we communicate both outwardly (through our mouths) and inwardly (through our ears and eyes). Linking behaviour and communication together, we get what is called non-verbal communication, the most powerful form of communication there is. Skill development in any particular area is a result of changes in our behaviour and communication.
The purpose of the social circle is to be in relationship with God, with others, and also ourselves such that we can love him with all our heart, mind, soul and strength and our neighbour as yourself (Mark 12: 30, 31).
Social life is the outside circle: we are in relationship (for better or worse) with our family of origin, are family, friends/peers, school/work, organisations/groups/clubs/churches, intimate relationships, and also connections with professionals who service. Outside of us, is also God! He is not only in us, but with us – "with…in"! In this way our spirit life is not only in our central circle but also in our outer circle.
The circles provide a depth gauge of the level of conversation. The deepest levels of conversation originate from the inner circles. The more central the circle of conversation, the safer the conversation has to be. It is therefore easy to see how safe (and thus how effective) a small group is, dependent on what the predominant focus of conversation is – whether it is social or physical compared to what people think/feel about things or even what is deeper in the heart. These deeper topics need to be treated with great care in a safe setting, otherwise the conversation will quickly revert to the outer circles.
The circles can apply to an individual, a system (eg marriage or family) or even an organisation. Whenever you look at another person, especially as a counselor, it helps to have some kind of framework in your mind. The circles are a main part of the Living Wholeness to help understand another / a system. (The heart of a system is the culture and the resulting atmosphere within the interactions of that system.) The circles (in addition with the triangle) illustrates the great commandment that we should love the Lord our God with all heart, soul, mind and strength and love our neighbour as ourselves (Mark 12:30, 31).
There are various analogies or pictures of the circles of the person/system, which can provide this helpful structure. For example, within circles are sectors, which are like rooms of a house. We are like circles which over time former thread and are like a river, and grow as the circles seen in the cross-section of a tree. So we are like a
a thread in a tapestry where we weave our life alongside other threads. From the backside, it can at times look like quite a mess. From God's perspective, a pattern starts to develop as we submit our lives to Him.
a river which has come from differing tributaries. In marriage – or any coming together with another – there can be initial (and sometimes ongoing) turbulence as each finds their own flow, together as a unit.
rooms in the house. From a Christian perspective, as we invite the dominion and kingdom, the centrality and presence of Jesus into those areas of our lives, we grow into the "whole measure of the fullness of Christ" – Ephesians Ch. 4 : 13. The hymn, "Take my life and let it be" addresses a lot of these rooms – mind, body, and soul. It expresses the heart of someone who allows the Spirit of God, and the influence of Jesus to pervade their whole being. There may be parts of us which we shut off to the influence of the Spirit, even as we can stop a visitor from entering various rooms of our house. In these areas, we are not going to grow to the level of Christian wholeness to which we could. To be filled with the spirit, we need to let Him to fill our house – our rooms
a growing plant or a tree.
This provides a cross sectional perspective as well as a chronological one. Cut open the trunk and have a look inside. The person, like the tree, can be seen at any one point of time as functionally being made of a series of cross sectional concentric circles. The concentric CWF circles are like the rings of a tree growing over time, coming from the past roots, and growing into the future shoots. This says that we all carry the influence of our past into our present, which can to some extent predict the future. Nevertheless, we can change the direction the tree is growing as we rewrite the narrative of our life's direction, especially with the central influence of the author and finisher of our race, Jesus. In this way, our story becomes part of His story and part of history!
We are made up of separate parts. However, it is important to see that this is a very artificial way of categorising the person. Thus the
concentric circular lines or boundaries are really very porous and blurred within the person and there are multiple links from one circle to another.
parts of us are in fact often a composite of the influence of a number of aspects of various compartments.
Circles, should be viewed 3 dimensionally, such that they are more like

Disks… Which rotate around each other.
Spheres… One within the other.
Colours… Which flow into each other
Systems.. Which are highly interrelated.
Nevertheless, in order to have an integrated view of the person, it is important at times to dissect and separate out the functions in order to categorise and understand them more clearly. Theologians do this with the scriptures, as do horticulturists, when they classify various flowers. Doctors learn about various separate systems which allows them to see the whole more clearly.
How many parts are we? We are one! So although there are five inter related discs or circles, in fact we are one. Some people say we are three – body, mind and Spirit (the tripartite view). Others say we are two – with body and Spirit (bipartite). Whatever view we have, it is important to include all the aspects of us. A real danger of the bipartite view is it tends to eradicate or annihilate the psychological or the mind – which has been created by God. We are a unity. And our unity is made of various parts. All the parts connect into each other and overlap with each other. We are made up of a number of circles and parts. So the way the Christian Wholeness Framework looks at the person (and a family, as well as a church) is to consider the parts in order to understand the whole. While it helps to dissect them out from each other, in reality, these parts are not contained in nice and neat circles. They interact and blur with each other.
So we are a unity, we are: –
One: A unity
Two: Inside and outside
Three: Body, soul and spirit
Four: Social, body, mind, spirit
Five: Social, body, mind, personality, and spirit
All of the above! (which is the CWF perspective)
The Bible does not categorise the individual in two and a certain number of watertight compartments. Theologically, people talk about us being as 2 parts, body and spirit or 3 parts, body spirit and soul. We talk about 5 circles, which seems to include all of the aspects of person (spiritual, psychological, physical and social). The Bible does mention all of these aspects of the person.
You may well have a different view of the details of where one part begins and another part ends. Explore these issues and come to your own conclusions. The approach presented here, is a practical and integrated view of the person, which helps to understand the various composite parts.
The circles are 3 dimensional! The circles have three dimensions of growth.
Cross sectionally, the circles interact and grow with each other. They are interactive and affect each other. They are alive and dynamic. They are not static or dead. They are ever changing and fluid. Like the central nervous system goes into the peripheral nervous system, and into every part of our body, so as it were the spirit pervades our soul and our soul, has a lot to do with our mind, and then effects our body and actions.
Chronologically, people like a tree, grow. The roots move through into the shoots.
There is a third dimension of change and growth, as illustrated by the square. The circles do not only move and interact crossectionally and grow over time (chronologically) but also they move in a third dimension, within the square and the four quadrants. So in the square we can move to a higher/lower and more functional/dysfunctional level than they were, say when compared to a few years ago. We can also live at a different spiritual level now than where we were before. We may be either close to God or further away. In all of our areas we can be functioning in the flesh (self-centred) or in the Spirit (God-centred) . Any aspect of us can be at various levels of Christian Wholeness, as illustrated by the square.